Eddie Law may be one of the best kept secrets in Rock-N-Roll for a longtime. His battleship delivery and burning vocals have been knocking the socks off listeners for almost 30 plus years. Born in Brooklyn, New York, Rased in Queens N.Y. Mr. Law made his way to South Florida with his Family at the tender age of Eight.
But just Eight years later at the age of Sixteen Eddie makes his mark in steamy South Florida Right-Smack-dab in the middle of the 80's big hair and big guitar revolution. His first band, Trial, won several Battle-of-the-bands and stood out amongst the many "copycat" bands of the time. He's received his vocal strengthening training from renowned teacher Elizabeth Sabine (Axl Rose, Steve Perry, Michael Sweet ,Ron Keel and many others).
Eddie left the small pond of South Florida for the chance to become a Big Fish amidst the Los Angeles music explosion. He played with many national acts at a…ll the legendary clubs like, The Whiskey, The Roxy and the Troubadour. He parlayed his "live" success by capturing the coveted and lucrative World of studio vocal work.
In 1988-89 Mr. Law caught the attention of renowned manager, Wendy Dio of Niji Management (Ronnie James Dio, Rough Cutt, and Cold Sweat)At the time. It wasn't long before he was doing studio work with seasoned veteran musicians like House of Lords' guitarist Mike Guy, Dio, bassist Jimmy Bain and Hericane Alice, drummer Jackie Ramos. Legendary Rough Cutt singer Paul Shortino
In 1990, years of getting close but no cigar, Eddie worked behind the scenes as a Tour Manager for bands, Haven's Edge and D'Priest. And did some Guitar tech work as well, It was humbling work as he toured the United States for a few months. But that's not what he wanted to do.
"L.A. was cool for awhile, but it got stale. I guess we outgrew each other. Florida may be more laid back than L.A., but I still hit my music hard, the way my fans like it."
Then in June 1990 Eddie life came to a halt. It was fathers day his family just came to visit Eddie and his Sister. from floridea for two weeks he hasn't seen them in 3 years. The two weeks were the best Eddie every had with his biggest fan his Dad Marty! "I took them to Vegas. And to all the cool stops in LA/Hollywood".
Then Eddie set them up in a Hotel close too LAX so they could just take a taxi to the airport and not have to deal with the LA traffic form Hollywood. Five Hours late he gets the call that his Father died. "I believe he waited to see me before he passed". "He was my biggest fan, RIP MARTY" So the Death of his Dad led Eddie back to his old stomping grounds of South Florida. "My dad made me promise to him that when he was gone, I would take care of my mom and I honored that."
In Aug, 1990 Only two months after Eddie's Dad Passed, Eddie ran across guitar legend Yngwie J. Malmsteen at "The Button South" A local South Florida Rock Club. The timing couldn't have been better as Yngwie was auditioning singers for a new Line up he was putting together for his next CD. Could Eddie finally get his big break? Yngwie was shocked at Eddie's similarities to one of his childhood hero's; The lead singer of Deep Purple Ian Gillan. Yngwie says to Eddie, "Man, You look just like a younger Ian Gillan and your voice sounds just as strong. "I was on cloud 10 after jumping over cloud 9 after hearing that"." Said Eddie!
The two became quick friends, playing many impromptu recordings at the maestro's Miami home studio. Hanging out at all the South Florida clubs. But shortly after that Yngwie was off to Sweden for the Holidays.
"I have to go back to Sweden for the Holidays, " said Yngwie, but when I return, I will call you!" That call never came, however, . Eddie would later find out from Yngwie guitar tech that Malmsteen decided to make a dream of his come true and hire an All-Swedish band. Can't felt him for that. Said Eddie "Just wish he would of call me to tell me him self to what was up going on at the time".
Eddie Law didn't give up , Eddie used his time to take care of his heartbroken mom and continue to write his now, more personal music.
His writing matured and his creations during this time are some of the best stuff he's ever done. "Now He's Gone", "Playing With The Devil" "Living on A Heartbreak "and "Billy the Kid" were four moving tribute songs to his dad and how he dealt with the loss. You can hear the emotion and pain in his voice.
In Jan 1991 Eddie took matters into his own hands and formed his own band,( Law Of The Land) He meet this Little Italian Guy from NYC. Vinny Manfredi Awesome Bass player Keyboard, Lead and Backup Singer. Was in a Band called (Atila)
After two months me and The (Vin Man) thats what I call him, sense he called me The Law Man. I ran into two old friends of mine one was a Drummer and other one was a Guitar player. Jody Martin and Dave Siclari. And Law Of The Land was Born 1990-91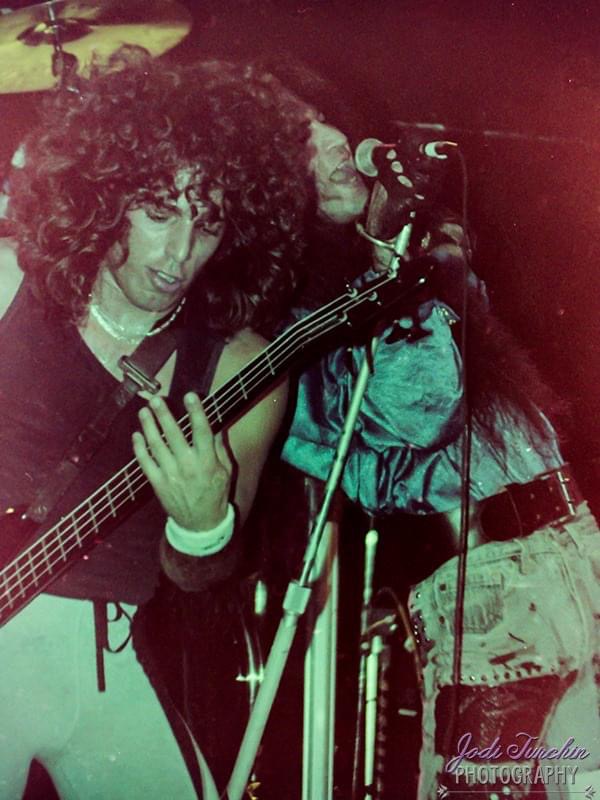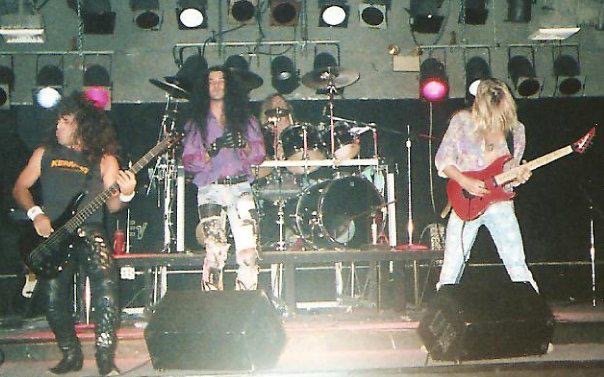 They were soon headlining all the big clubs like, The Button South, Summers on the Beach, The Tree House, Rock Candy, Plus Five, and Rock Solid. Did some shows in Miami too. We had many sit downs and talks with many record labels, Atlantic, Mercury / Poly Gram, Geffen.

"But here we go again says Eddie so close but yet so far away. The Seattle sound hits. And the Labels wanted to know if we have any songs that sound like that, Welllllll NO! We were a Melodic Hard Rock Hair Band. HELLO! NO! WE DON'T. The worst thing about that at that time, they knew that we didn't write songs that way. And we were weeks from signing a deal with Mercury / Ploy Gram. Until the Dumb Ass A&R guy calls me and says sorry Eddie they are looking for the Seattle sound. So not to long after that the band broke up.
As the 21st century approached, Eddie continued writing songs and working as a Singer-for-Hire. To add to his arsenal, Eddie taught himself to play rhythm & lead guitar,Bass and drums. Now he records his songs the way he wants to. But still loves to work with great players.
Eddie, took his solo band, The Eddie Law Rocks Band, on the road In June of 2007.
Eddie was invited to play at Rock It Fest in West Virginia, for kids who have Multiple Sclerosis and Muscular Dystrophy. The show was a success for The Eddie Law Rocks Band "It was great to play for one of my favorite charities".
With a 5000 Fan/Friends on one of his Facebook pages And another 3000 plus on his Fan page on Facebook, in a short time, he's attained thousands of fans around the World.
Then in 2009 Eddie was asked to do another charity show called Halloween Blitz at the Mizner park Amphitheater
In 2010-11 Eddie was doing a lot of shows around South Florida and the Mid west states .
In 2012-13 Eddie Started working on his Solo CD. Called "Free World"
in 2014 Eddie's electrified vocals and take no prisoners attitude are best displayed on his new recent studio vocal demo for his first solo CD called "FREE WOULD" Named after his Titled Song.
In 2015-2016 with what he thought would be the new line up for has new Solo project Called "The Eddie Law Rocks Band" Things took a wrong turn quickly. So as the cookie crumble so did the new line up.
Said Eddie "It was so heartbreaking again for me. We got back into the studio to finish up what I started. But there is always one or two out of the bunch that like to do a little to much then the others do. If you know what I mean. Think of Ottis from the Andy Griffin Show. That will gave you a great idea of what I had to deal with.
In 2017 -2018 Eddie built a new home recording studio with state of the art recording equipment.Like The New Slate Raven MTI 2 Touch Screen And all the new plug In's from Slate,Not shown in photos. Will Update with new photos soon.

NOW I CAN FINISH UP MY NEW SOLO CD ON MY OWN TIME. "And Still Work On Other Projects, Around The World". Please fill free to contact me if you have any vocal Studio work that needs to be done on your New Project. eddielawrocks@gmail.com
2020 OMG WHAT THE HELL!! LOL Covid 19
2021-2022 THE CD WILL BE A (Independent RELEASE) Release Date TBA. Cant wait to let everyone hear the new Songs. And Line-Up
Mr. Law has taken the glory days of the 80's 90's genre and added his own twist, keeping his vocals fresh and relevant. Stay Tuned! Thanks for your support
Eddie Is now taking on new on-line Vocal Strengthening Students E-mail for more info. eddielawrocks@gmail.com